TVN najaarsdag: Het verband tussen Karate-do en Theosofie
October 7 @ 9:30 am

-

4:00 pm

CEST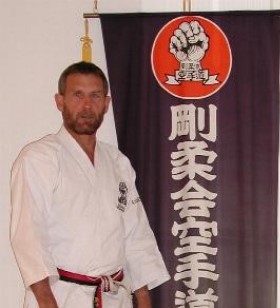 In eerste instantie zal het onderwerp van deze dag u misschien verbazen, want van Karate weten wij vaak weinig behalve dat het een vechtsport is, één van de martial arts.
Voor een wat beter begrip hiervan denken we aan de Japanse term hiervoor, Bushido. Vrij vertaald De weg van de krijger. DO is het Japanse woord voor weg, te vergelijken met tao in het Chinees. Karate-do betekent niet alleen het leren van verschillende technieken en het toepassen daarvan; de betekenis is veel dieper.
Het doel van het beoefenen van elke vorm van budo is niet het behalen van een overwinning over anderen, maar verwijst naar de overwinning van het zelf.
Het verband tussen Karate-do en Theosofie
door Ingo de Jong
Hier kunt u het volledige programma bekijken en downloaden als u wilt.
Hier kunt u zich inschrijven. U hoeft niets meer te downloaden of te printen. Vul dit formulier online in en klik onderaan op submit /verzenden.
Korte omschrijving van het programma.
09:30 u inloop met aanmelding, koffie en thee.
10:00 u Precies Opening
10:05 u Martial Arts
Discipline, concentratie, evenwicht – niet alleen in de sport, maar ook op het spirituele pad.
11:00 u Pauze
11.30 u Vragen, gesprek, oefeningen.
We zijn op zo'n dag heel erg met ons hoofd bezig. Belangrijk is het dan om dit af te wisselen met lichaamsbeweging en ademhalingsoefeningen.
12.30 u Lunchpause (Er is soep, neem uw eigen brood/lunchpakketje mee).
13.30 u De mens, schepper van zijn eigen lot.
We zijn als mens verantwoordelijk voor elke gedachte en elke daad. En daarmee beïnvloeden wij alles om ons heen en bepalen wij ook onze eigen toekomst.
14.30 u Pauze
15.00 u Karaktervorming door verbeeldingskracht; praktische theosofie.
Het gaat op zich niet om de omstandigheden in ons leven, maar over de manier waarop wij die tegemoet treden.
16.00 u Afsluiting
Kosten
€ 35 voor leden van de TVN, € 40 voor niet-leden.
Studenten GRATIS op vertoon van studentenpas of MBO card.
Zie verder het inschrijvingsformulier; online invullen en verzenden.