Latente Vermogens in de Mens: "Werken met energieën"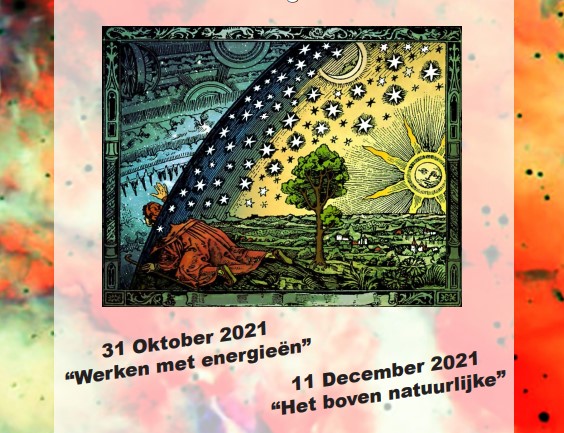 Een reeks programma's over buitengewone ervaringen en energieën in de ontwikkeling van de mens.
Bijzondere energieën zijn altijd latent aanwezig en trekken veel aandacht. We zijn als mens in staat hiermee in contact te komen, en hiermee te werken. Soms zijn ze het gevolg van buitengewone ervaringen, soms ingebed in een spirituele traditie. Een actieve toepassing is alleen verantwoord binnen bepaalde randvoorwaarden. Van fundamenteel belang is de intentie van de betrokkene.
Programma
10.00 Welkom en koffie. Kom beslist op tijd!
10.30 Opening
10.35 Het wijden van mensen, plaatsen en voorwerpen


Dr ir Gert Jan van der Steen (Bisschop van de Vrij-Katholieke Kerk, was bijzonder hoogleraar Informatiekunde. Bezig met de integratie van oude en nieuwe vormen van spiritualiteit).
Mensen kunnen door hun intentie bijdragen aan de vorming van krachtplekken zoals tempels en kerkgebouwen. Een goede start wordt gemaakt met een wijdingsrituaal waarin de functie van de plek wordt verbonden met spirituele energieën. Ook talismannen en iconen kunnen zo worden gezegend. Op hun beurt worden de mensen gewijd die de ritualen uitvoeren. We zullen de interne werking nagaan.
11.30 Koffiepauze
12.00 Aura's en chakra's leren waarnemen, een weg van bewustwording van metafysische energie


Drs. Pierre van Eijl (honorair onderzoeker op het gebied van het hoger onderwijs verbonden aan de Universiteit Utrecht. Daarnaast al vele jaren aura-reader en -healer. Beheert de website van het Koendalinie Netwerk).
Wat zou jouw antwoord zijn op de vraag: "Ben je een lichaam of heb je een lichaam?" Het zoeken naar een antwoord op deze vraag kan een belangrijke stap zijn op de weg van spirituele ontwikkeling. Het leren waarnemen van de metafysische energieën van aura's en chakra's kan daarbij een manier zijn om de spirituele wereld waar te nemen.
12.55 Lunchpauze. Voor soep wordt gezorgd. Neem zelf lunchpakket mee.
14.00 De symfonie van de spirituele ervaring


Dr Saskia Bosman, (bioloog en zelfstandig onderzoeker, geeft trainingen voor persoonlijke en organisatieontwikkeling. Organiseert en begeleid transformatieve natuurreizen).
Tijdens buitengewone ervaringen, zoals telepathie, energetische healing en mystieke ervaringen zijn o.a. de ademhaling, hartslag, hersengolven en het licht van de cellen wetenschappelijk onderzocht. Tijdens positieve ervaringen passen de ritmes van een persoon in elkaar en bij die van anderen en de omgeving. Ook de rol van de pijnappelklier, neuroplasticiteit en van het DNA zal worden belicht.
14.55 Theepauze
15.25 De mens als antenne


Drs Peter Kampschuur (Psycholoog en ademtherapeut, geeft cursussen 'Omgaan met energieën' aan het Parapsychologisch Instituut. Schreef Spiritualiteit en energie: de kundalini-kwestie).
Bewustzijn en energie zijn twee kanten van dezelfde munt. Het stromen of stagneren van onze energie bepaalt wat wij ervaren en het (eventueel verscherpt) functioneren van onze zintuigen. De (bewuste) ademhaling is het belangrijkste middel om onze energiehuishouding te ordenen. Het qi (of chi)-ademcentrum opent ons tussen de aarde onder onze voeten en de hemel boven ons hoofd, en brengt ons van persoonlijk naar kosmisch bewustzijn.
16.20 Sluiting, zo mogelijk kort forum
31 oktober 2021 "Werken met energieën"
Organisatoren: Internationaal Theosofisch Centrum in Naarden en de Theosofische Vereniging in Nederland
Plaats: Besant Hall, Meentweg 9, 1411 GR Naarden
Aanvang 10.00 uur
Taal/language: Nederlands/Dutch
Kosten: TVN leden € 50,- voor 1 dag en € 90,- voor beide dagen (31-10-21 en 11-12-21), niet-TVN-leden: € 65,- voor 1 dag en € 120,-  voor beide dagen.
Download hier het inschrijfformulier (Word document) en hier de folder.
Details
Date:

October 31, 2021

Event Category:

Event Tags:

Aura's en chakra's, chi, iconen, kosmisch bewustzijn, metafysische energieën, mystieke ervaring, neuroplasticiteit, pijnappelklier, qi, talisman, wijdingsrituaal

Website:
Organizers
ITC Naarden
Theosofische Vereniging in Nederland (TVN)
Venue
Besant Hall

Meentweg 9




Naarden

,

Noord-Holland

1411 GR

Netherlands

+ Google Map

Phone:

+31 (0)35 – 694 51 21