AFGELAST!! Latente Vermogens in de Mens: "Het boven natuurlijke"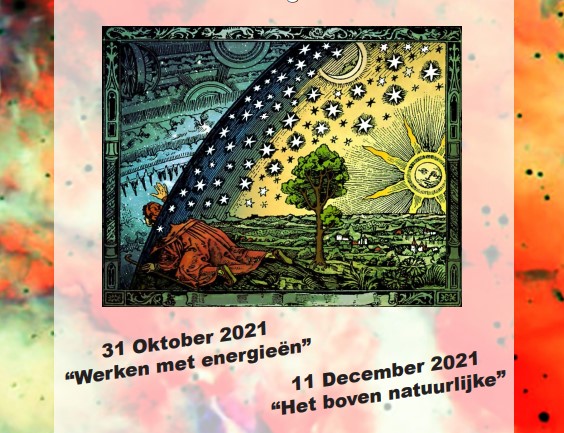 – – – A F G E L A S T ! – – –
De 2e najaarsdag "Latente Vermogens in de Mens" van 11 december 2021 kan helaas niet doorgaan, wegens de strengere maatregelen tegen de verspreiding van het Corona virus, die zijn afgekondigd tot ten minste 19 december 2021. Wij gaan een andere datum zoeken  in 2022; wij houden jullie op de hoogte.
——————————————————————————————————————-
Een reeks programma's over buitengewone ervaringen en energieën in de ontwikkeling van de mens.
Er is meer tussen hemel en aarde … Deze uitspraak opent een onbegrensd gebied dat de dagelijkse ervaringen overstijgt. Een breed terrein, gebaseerd op ervaringen, geloof, emoties et cetera.
Tijdens deze dag wordt stilgestaan bij een aantal aspecten die betrekking hebben op onze eigen relatie tot het bovennatuurlijke. Binnen het kader van deze reeks studiedagen worden diverse aspecten wetenschappelijk geduid.
Programma
10.00 Welkom en koffie. Kom beslist op tijd!
10.30 Opening
10.35 Magie en bescherming: de engelenkracht en het onzichtbare


Christian Vandekerkhove: (docent Theosofie, Parapsychologie en Hylisch Pluralisme aan de Faculteit voor Vergelijkende Godsdienstwetenschappen. Lid Hoofdbestuur Belgische Theosofische Vereniging en lid Opperraad Belgische Martinistenorde. Stichter Koilon, vzw, Ritmo-Fosfenische Wetenschappen)
De mens is een intergeconnecteerd wezen: in de objectieve wereld zijn we verbonden via materiële netwerken. In de subjectieve wereld via velden, gedachtenvormen en egregoren (meta-gedachtenvormen). We verkennen vandaag deze subjectieve energieën die ons leven bewust of onbewust medebepalen in wel en wee.
11.30 Koffiepauze
12.00 Zo buiten – zo binnen…: over holografische neurale verwerking van energetische signalen


Dr. Barbara Koning (godsdienstpsycholoog, voert een praktijk als geestelijk begeleider en droomconsulent. Heeft 21 jaar gewerkt als universitair docent psychologie aan de Protestantse Theologische Universiteit te Kampen; voltooide opleiding tot Dreamleader; was bestuurslid van de International Association for the Study of Dreams en co-redacteur van Dreams and Spirituality. Handbook for Ministry, Spiritual Direction and Counselling).
Wetenschappelijk onderzoek vormt de basis voor een hypothetisch model dat inzichtelijk maakt hoe ons brein energieën kan herkennen en decoderen. Een model dat dus helpen kan om ons voor te stellen hoe een fenomeen als telepathie, synchroniciteit, of communicatie met engelen, überhaupt mogelijk is.
12.55 Lunchpauze. Voor soep wordt gezorgd. Neem zelf lunchpakket mee.
14.00 Psychokinese en poltergeist in de context van parapsychologisch onderzoek


Prof. em. dr. Hans Gerding (filosoof, parapsycholoog, docent, auteur en filosofisch counselor op het gebied van grenservaringen).
Uit enquêtes blijkt dat mensen psychokinese ('vanzelf' bewegende voorwerpen) rapporteren. De hedendaagse jeugdcultuur ('gaming' en netflix-films) zit vol met spoken (poltergeist) en psychokinese.
In deze lezing staan de spookverschijnselen in een huis in Druten centraal, waar de spreker deze verschijnselen niet alleen optekende, maar ook wetenschappelijk onderzocht. Vanuit de parapsychologie kan er licht worden geworpen op deze fenomenen, terwijl er desondanks intrigerende vragen over blijven.
14.55 Theepauze
15.25 Van groepsgeest naar teamspirit


Dr. P.W. (Pim) Blomaard, is opgeleid als filosoof, gepromoveerd in de zorgethiek, was jarenlang bestuurder van een zorginstelling en is thans verbonden aan de faculteit Religie en Theologie van de Vrije Universiteit. Hij is daarnaast voorzitter van de Antroposofische Vereniging in Nederland.
We kennen uit de wijsheidstraditie het thema van groepszielen: geestelijke machten die aan een volk, of een stam, of een familie leidinggeven. Waar de groepsziel machtig was, daar was het individu veelal onmachtig. In onze tijd van individualisering is de invloed van dergelijke machten op onze keuzes kleiner geworden. We voelen meer vrijheid om onze eigen weg te gaan. De saamhorigheid is dan ook niet meer bij voorbaat gegeven, maar zal moeten ontstaan vanuit een eigen keuze. Waar wil ik bij horen en hoe breng ik dan samen met anderen gemeenschapszin tot stand? Daarmee komen we midden in de moderne tijd waarin allerhande groepen en teams op zoek zijn naar een synergetische, verbindende kracht. We werken hard aan teambuilding en aan teamspirit. De opgave daarin is om ons bewust te worden van de mogelijkheid dat er een 'spirit' is die het team kan en wil inspireren.
16.20 Sluiting, zo mogelijk kort forum
11 december 2021 "Het boven natuurlijke
Organisatoren: Internationaal Theosofisch Centrum in Naarden en de Theosofische Vereniging in Nederland
Plaats: Besant Hall, Meentweg 9, 1411 GR Naarden
Aanvang 10.00 uur
Taal/language: Nederlands/Dutch
Kosten: TVN leden € 50,- voor 1 dag en € 90,- voor beide dagen (31-10-21 en 11-12-21), niet-TVN-leden: € 65,- voor 1 dag en € 120,-  voor beide dagen.
Download hier het inschrijfformulier (Word document) en hier de folder.