THE VOICE OF THE SILENCE: A MANUAL FOR MYSTICS
October 7, 2022

-

October 12, 2022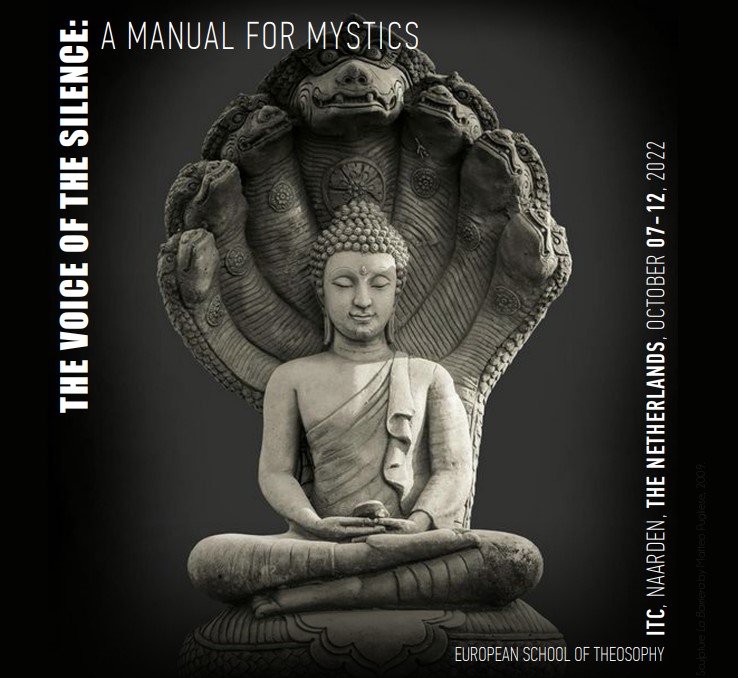 UPDATE: Participants are still welcome. Other than mentioned in the program, registration is still possible. For fees please look at the programme here: THE VOICE OF THE SILENCE: A MANUAL FOR MYSTICS . For further information, please contact secretary@itc-naarden.org
Day visitors
Day visitors are welcome. You do not have to register. Bring your own food, beverages are provided for. Fee: € 20,- per day, payable at Besant Hall.
---
The Voice of the Silence is one of the most influential books in theosophical literature. H. P. Blavatsky wrote it in 1889 while in London and may have finalised it during her visit to Fontainebleau. The booklet can be considered a manual for mystics, offering guidance during spiritual awakening. William James called The Voice of the Silence a Musical composition. In mystical writings the call to "hear" or "listen" is "a password to mystical regions," indicating a shift to a higher state of consciousness. In this manner, very often, an indication the mystic is establishing contact with its high self or soul is often described by the sound of silence, said to be similar to the hissing of a serpent.
You can download the programme here: THE VOICE OF THE SILENCE: A MANUAL FOR MYSTICS or go to the European School of Theosophy website.
SPEAKERS: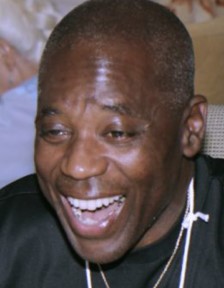 Dr Eugene Jennings is a physician actively working in the medical field of Neurology and Psychiatry. He continues helping and healing individuals experiencing a diversity of challenges in life since beginning his career in the mid-1980s. Before becoming a medical professional, he was, and continues to be, a Student of Theosophical Teachings as put forth in the writings and references of Helena P. Blavatsky and her Teachers. He is affiliated with the New York City United Lodge of Theosophists. He has been engaged in lecturing, workshops, and interactive projects related to Theosophy and the promulgation of its ideas since the late 1970s. He continues to speak internationally on Theosophical Themes and Teachings.
He is also currently engaged in completing a work for possible publication concerning Ideas relating to the practical, complex and philosophical aspects of Karma.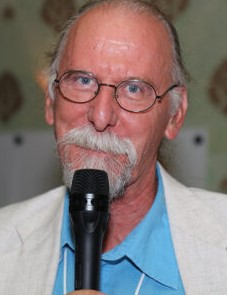 Jacques Mahnich spent his professional carrier in Aeronautical Engineering Industry. Specialized in electronics and real-time controls, he was involved in many advanced projects in aeronautics as a designer, manager and director. This period of experience provided me with a strong impulse toward learning and mastering the understanding of our material world, especially relativity and quantum physics. He joined the French T.S. in 1978, where he was active in the Marseilles Lodges for years, and then in Paris. He is a recognized international lecturer, delivering School of the Wisdom (Adyar), Schools of Theosophy and lectures in many places worldwide.
In 2014, he launched a web-based Project http://theoscience.org , dedicated to the monitoring and analysis of scientific articles which have some relevance with the Wisdom Traditions teachings. This project publishes a quarterly review "Researches Relevant to Theosophy". Building bridges between Science and Traditions is one of his main focuses and activity.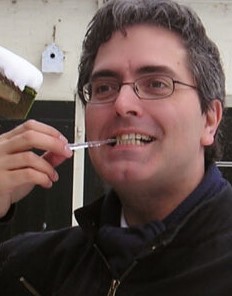 Ingmar de Boer (1966) has been a member of the TS since 1989, most of the time as an active lodge member. Since 2008 he has lived and worked at the International Theosophical Centre at Naarden, The Netherlands. At the moment he is chairman of the Naarden Annie Besant Lodge and vice-chairman of the Dutch Section. Areas of study most close to his heart are The Secret Doctrine, especially the first volume, and the origin of the Book of Dzyan and, in line with that, Indo-Tibetan Buddhism and Sanskrit.
Astrology and its esoteric background have been another one of his interests, and over the years he has written a number of articles on most of these topics and has given many lectures and courses. Together with David Reigle and Jacques Manich, he initiated a website presenting research articles on the origin of the Book of Dzyan.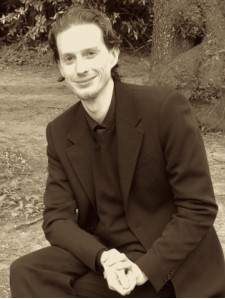 Dr. Tim Rudbøg is an associate professor at the University of Copenhagen and director of The Copenhagen Center for the Study of Theosophy and Esotericism sponsored by the Blavatsky Trust. Rudbøg is a trained historian of religions and has for over twenty years had an interest in Theosophy. His current major research project is focused on Blavatsky's The Secret Doctrine and intellectual history and builds on his prize winning PhD thesis from the University of Exeter, which was dedicated to the study of the major themes in H. P. Blavatsky textual corpus. Rudbøg's other work and publications have equally focused on topics such as Blavatsky's Esoteric Instructions and the notion of an ageless wisdom and on the academic study of Western esotericism. Among his most recent works to be published in 2019 is his co-edited anthology Imagining the East: The Early Theosophical Society 1875-1900, Oxford University Press.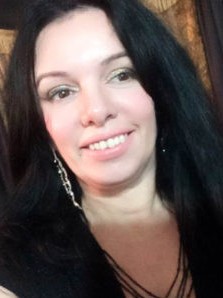 Erica Georgiades, MRes Religious Experience (Candidate) UWTSD; BA (Hons) Painting (student) Open College of the Arts – University for the Creative Arts. PgD (Merit) Ancient Mediterranean Religions UWTSD; BA (Honours) in Philosophy and Psychological Studies (Open). Editor of the FOTA Newsletter, a researcher on Theosophical History; secretary of the International Theosophical History Conference since 2018.
She is the Director of the European School of Theosophy since 2018; member of the Theosophical Society Adyar since 1991. Recently she started practising archery. She lives with her husband and daughter, in Athens, Greece. She is also a deep ecologist, animal-rights activist and pro personhood rights to non-human animals.
José Manuel Anacleto – Student of Theosophy since 1979. Editor of Biosofia Magazine. President of the Centro Lusitano de Unificação Cultural, where three volumes of texts by Helena Blavatsky, have been published for the first time in Portuguese. Others will follow in the future, namely a reedition of A.P.Sinett's The Esoteric Buddhism, The Secret Books of Blavatsky, by David Reigle and Nancy Reigle, and in the upcoming months, the full Portuguese version of The Secret Doctrine Commentaries.
Author of about 40 books, in which we can highlight Esotericism from A to Z, Alexandria and the Sacred Knowledge, The Ebionites, The Dual Mind – from Slavery to Freedom, etc., etc. He has also written the introduction for a Portuguese edition of "The Voice of the Silence".
Commissioner and author of the 24 panels of the Exhibition on Helena Blavatsky, which took place in Lisbon, in May 2018. The papers were later reproduced also in Brazil. Organizer of several congresses and author of hundreds of lectures and hundreds of articles on Theosophy, Esoteric Philosophy and Spiritual Traditions.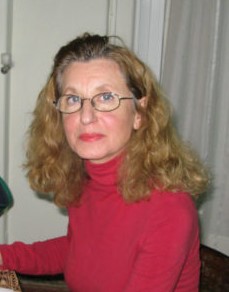 Ifigeneia Kastamoniti has been a member of the TS Greece since 1995 and is a frequent lecturer. She was a member of the Hellenic Board, translator of many classical Theosophical works and editor of TPH Greece and the Theosophical magazine ILISOS for 20 years.
For ten years she was secretary of the TS Greece. Born in the city of Thessaloniki, Greece, she has travelled to many countries in Europe, Asia, America, Africa and Australia meeting people and getting acquainted with their cultures.
She is the Secretary of the European School of Theosophy since 2018. She lives in Athens, Greece.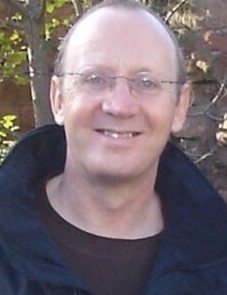 Gary Kidgell possesses a lifelong interest in all matters of an esoteric nature and has been a student of the wisdom teachings for over thirty-five years. He joined the society in 1994 as a founding member and President of the Dundee Theosophical Lodge. Gary is also a former Organising Secretary of the Scottish Regional Association. He works as a writer and professional astrologer offering consultations in esoteric astrology. Gary has lectured extensively on various esoteric subjects both within the U.K. and Europe. His book 'The Inner Journey Pathways to the Higher Self' has been distributed internationally.
Gary has also compiled, presented, and currently serves as a tutor in respect of two online audio-visual courses: Foundations in Esoteric Studies and Esoteric Psychology – The Seven Rays, these are based on the work of the English Theosophist Dr Douglas Baker with whom he studied for a Bachelor's Degree in Metaphysics at Claregate College.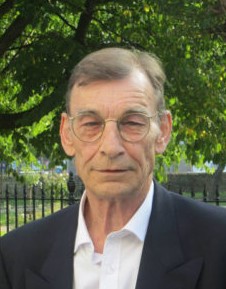 Tim Wyatt is an esoteric writer, lecturer, researcher and organiser. A broadcast and print journalist for half a century, he has won awards for his plays and TV documentaries. He has produced numerous TV films and currently writes for various esoteric publications worldwide. He is the author of more than fifty books including Cycles of Eternity: An Overview of the Ageless Wisdom distributed to more than 40 countries. As an international lecturer for the Theosophical Society and other organisations he travels widely across Europe. He is the founder of The School of Applied Wisdom based in Leeds and also helps to run Leeds Theosophical Society.
He has been a life-long student of esoteric ideas and occult science and is a dedicated explorer of consciousness. He is a lover of the natural world and lives in the Yorkshire Pennines with his cat Electra.
Meditative walk with Arend Heijbroek
Arend Heijbroek is currently chairman of the ITC.
He was General Secretary of the Dutch section for 6 years.