International Theosophical History Conference 2022
October 5, 2022 @ 3:00 pm

-

October 7, 2022 @ 12:00 pm

CEST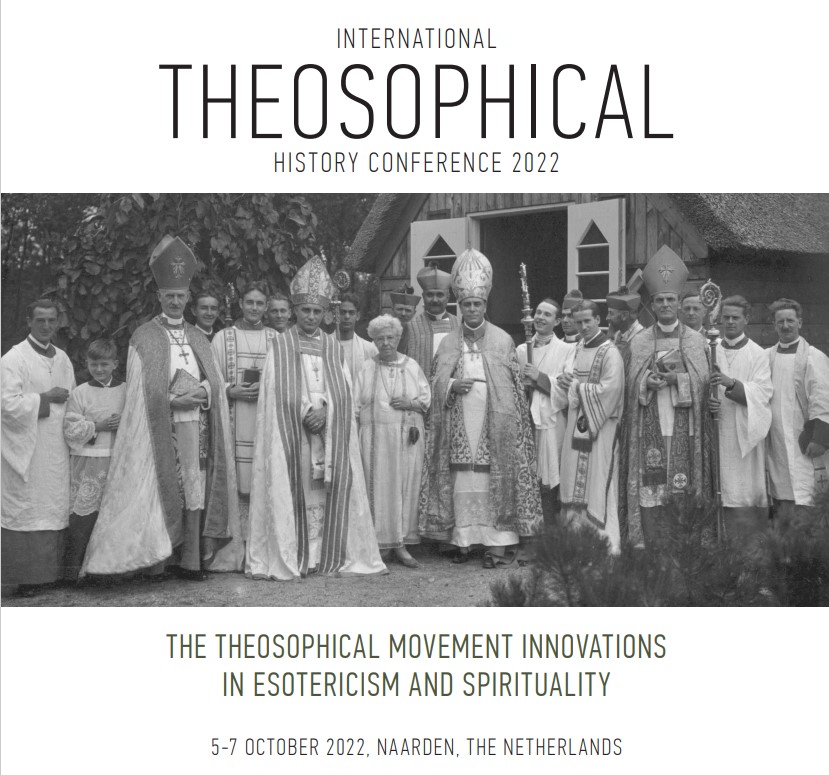 THE THEOSOPHICAL MOVEMENT INNOVATIONS IN ESOTERICISM AND SPIRITUALITY
Since 1986 a series of International Theosophical History conferences (ITHCon) have been held, mostly in London, at which scholars within the Theosophical Movement and from the academic world in general, have gathered together to share and discuss Theosophical History.
This year, the ITHCon will be hosted in Naarden, The Netherlands, at the International Theosophical Centre, founded in 1925, offering a unique forum for discussion and exchange of ideas on Theosophical history.
Keynote Speaker
Marco Pasi, PhD "Theosophy in Contemporary Art: Between Innovation and Continuity" (University of Amsterdam).
Conference Committee
• Conference Chair: Prof. Tim Rudbøg (Associate professor, Science of Religion, director of the Copenhagen Centre for the Study of Theosophy and Esotericism, University of Copenhagen)
• Prof. James Santucci (Professor Emeritus of Religious Studies at California State University, Fullerton.)
• Secretary: Erica Georgiades (MRes Religious Experience Cand, University of Wales Trinity Saint David; PgD Merit Ancient Religions UWTSD; BA, Hons, Philosophy and Psychological Studies OU).
• Bjarke Stanley Nielsen, PhD Candidate (Department of Cross-Cultural and Regional Studies of the University of Copenhagen).
With the support of the Blavatsky Trust.
PROGRAMME / TIMETABLE
OCTOBER 05, WEDNESDAY
15:00 John L. Crow, PhD The Invention of Occultism: The Creation and Shaping of an Esoteric Category
15:30 Alistair Coombs, DPhil Thresholds and their Dwellers
16:00 TEA BREAK
16:30 Oleg Yarosh, PhD Early Receptions of Sufism in the 'Theosophical Orientalism'
17:00 DINNER BREAK
ONLINE LECTURES
19:30 K. Paul Johnson Madame Blavatsky in Edgar Cayce's Library: Virginia Beach and the Birth of the New Age
20:00 Ronnie Pontiac Alexander Wilder, Blavatsky and American Platonism
OCTOBER 06, THURSDAY
10:00 Kurt Leland How Thought-Forms Came to Be: New Research on Text, Painters, and Paintings
10:30 Paulina Gruffman, PhD Candidate "Most Noble Out-pourings of the Soul": The Reception of Ancient Egypt in the Works of G.R.S. Mead
11:00 TEA BREAK
11:30 Tim Rudbøg, PhD Helena P. Blavatsky's Attempt to Innovate Christian Spirituality
12:00 Bjarke Stanley Nielsen, PhD Fellow Innovating Theosophical History
13:00 LUNCH BREAK
15:00 Marco Pasi, PhD Theosophy in Contemporary Art: Between Innovation and Continuity
16:00 TEA BREAK
16:30 Arend Heijbroek The Early history of ITC Naarden
17:00 DINNER BREAK
ONLINE LECTURES
19:30 Brett Forray The Center Will Not Hold: Division Defined as Innovation Within the Theosophical Society
20:00 Anna Kaltseva, PhD Candidate Theosophical Alternatives to the Risk Society
20:30 Dewald Bester, PhD Theosophy and Academia: An Historical Moment
OCTOBER 07, FRIDAY
10:00 Shawn Higgins, MTS The Mathematician: An Analysis of Henry Bedinger Mitchell's Talks on Religion
10:30 Alexandra Nagel, PhD Roelf Takens (1862–1930) aka C. Aq. Libra Veterinarian, Dentist, Writer, Esoteric Astrologist
11:00 Mriganka Mukhopadhyay, PhD Candidate From Ceylon to Tibet via Calcutta and Darjeeling: Locating the Theosophical Society's Buddhist Networks in Bengal
11:30 Karolina Maria Hess, PhD For Body and Spirit: Theosophical Summer Camps in Poland
For more information visit this website or download the programme here.
Day visitors
For this conference day visitors are welcome. You do not need te register. Bring your own food. Beverages are provided for. Fee: € 20 per day, payable at Besant Hall.