What is unique about the Centre?  (text under consideration of the ITC Council June 2021)
The ITC has a unique atmosphere. As all its activities are related to the higher aspects of life, the Source of Wisdom and Love, it is thus connected with the finer spiritual energies. Visitors, when open and receptive to its potent stillness, can therefore be greatly helped and inspired.
---
Her Majesty has arrived, and she stays!
We are pleased to announce that our centre has been visited by a real queen and her folks. It appeared that she liked the ITC, and decided to stay. So, since mid-May, we have the privilege to house a bee queen with thousands of workers. Last winter we met a remarkable bee-keeper: his main concern is to help and increase the bee population (no commercial honey production). This implies, amongst others, not interfering with chemicals or otherwise, which on the longer term will make the bees stronger. His research resulted in the design of an innovative bee-hive. Bees prefer to stay in hollow trees; the special design bee-hive intends to create a similar environment. The hive is insulated very well, so it takes less energy for the bees to keep the temperature at the desired level in wintertime. During the weeks the bees made their new honeycombs remarkably fast: this seems to work out fine. We are incredibly happy with this contribution by Her Majesty and her assistants, which no doubt will support the biodiversity on and around the Centre considerably.
The bee-keeper in 1984 (photos by Mary Kuska-Dinger)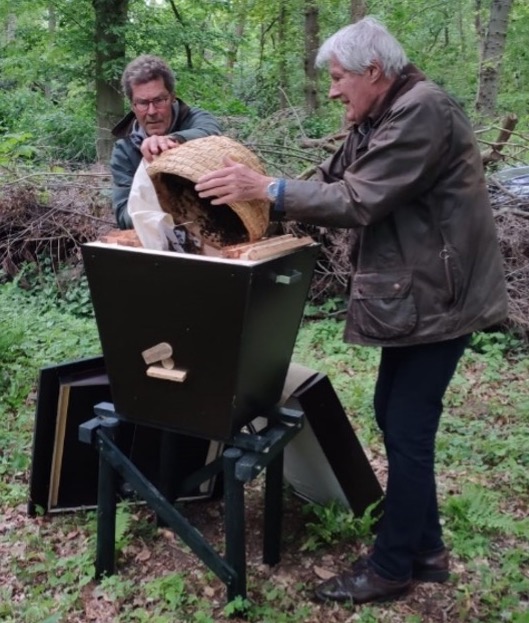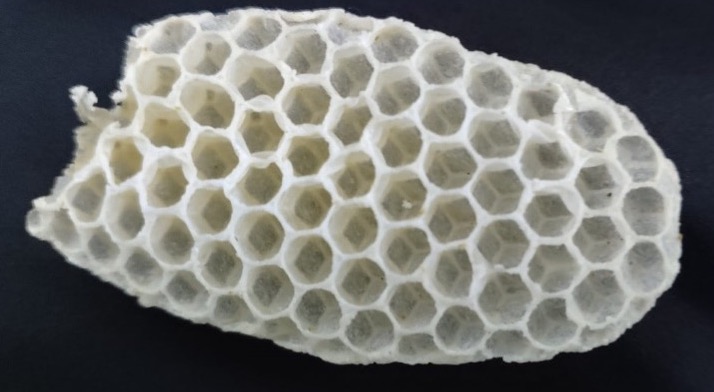 ---
Our activities are starting again
Yes!! Activities are starting up again, só crucial for a spiritual centre. While some small-scale activities could continue during Corona time, the first larger activity taking place will be a retreat of the Buddhist retreat organisation Sangha Metta, during the first half of July. Later that month Round Table will have their summer camp. Working together with the Dutch section of the TS, several activities have been planned next autumn (see below and on our website).
---
The garden team enjoys working together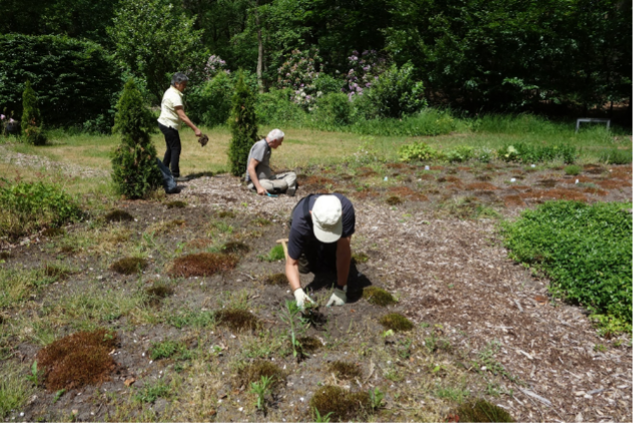 One of the activities that monthly continued is that of the garden team. The month of May was wet and cold, so we stopped earlier than usual. For nature this rain was beneficial and, with the warmth of June, plant growth is exploding now! The new gardens around Lotus House, Crystal Hall, in the Garden of Remembrance, and in the meditation garden: it all demands a lot of attention now, making the gardens ready and beautiful to receive the guests. Star moss has been transplanted from the old tennis lawn to the Garden of Remembrance (see picture). This summer, extra days will be planned for planting and weeding.
---
O dear, o deer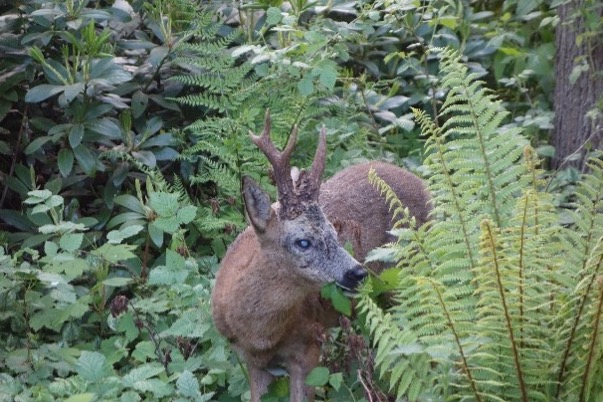 In the former Centre News, we informed you about the deer population at the Centre. We will have to observe how this develops on our relatively small estate. We noticed that they like the meditation garden (see picture).
Unfortunately, we also experienced deer being chased by the dogs of walkers. There is little that can be done about that, as the entrance gates are not closed, and we do not have guards.
One of these days we found a deer who seemed to have died by natural causes. A forest keeper placed the deer in a larger forest to be absorbed by nature…
---
Our new website in the making
We are currently working on our new website, which will be ready shortly. We have experienced that not only technology has changed, but, even more important, so have ways of communication. We defined that our site needs to
support inner transformation

invite people to come to the ITC, to join activities and experience its special atmosphere

give people the feeling of being part of, and connected with a spiritual community

show that the ITC is part of the international TS community

show that a broad range of spiritual activities are taking place here, in line with our mission statement (although not all activities fall under the responsibility of the ITC)

be structured from the perspective of a visitor
So, you are welcome to visit our new website shortly!
---
Library: adding and improving
Having received the books of the LCC training school for priests and from Sangha Metta, we are currently preparing to add a Buddhist study library. This will make our library increasingly attractive. Finally, we are pleased to announce that the catalogue of the library of the Dutch section and ITC can be visited online now, thanks to Renger Dijkstra (librarian of the Dutch section) and Peter Walstra for his technical support and realisation. Open link
---
Renovation cloister started
Finally, the renovation of the cloister could start. It appeared even more necessary than seen from the outside, with construction beams largely rotten! The new structure will prevent these risks, and will result in less maintenance. The external walls will be constructed with glass only, and the roof will be well insulated without gutters. We are sure that the result will be splendid. The project, however, appeared more costly than anticipated, but there was no alternative. A bit of a challenge at the time of less income due to Corona, but sometimes one must take such decision.
---
Friends ITC
We are fortunate that a group of friends is supporting the ITC: year in, year out! There is no future for a Centre like ours, without such warm support. Support can come from the work of many volunteers, and through donations that are necessary for the Centre to survive. If you agree with the aims of the Centre then consider becoming one of the Friends of the Centre.
We are pleased to announce our next Friends Day on Saturday 16 October 2021: we are working on an attractive program. More information in the next issue of Centre News.
May we remind our Friends of the ITC of their annual contribution of 50 €?
---
Important dates for your diary
More information at the Events page
| | |
| --- | --- |
| Dates | Activities |
| 24-26 September 2021 | Program New Members (Dutch) |
| 16 October 2021 | Friends Day |
| 31 October 2021 | Working with energies (Dutch) |
| 11 December 2021 | The Super Natural (Dutch) |
| 19 February 2022 | Between Death and Birth (Dutch) |
| 2 April 2022 | Between Death and Birth (Dutch) |
| June 2022 | The Science of Powers Latent in Humanity, symposium (English) |
---
Donations to the ITC
Your general donations will be highly appreciated. If you prefer to earmark your gift, just mention any specific project: Bee-hive, Cloister, Equipment, Flowers and Plants, Garden of Remembrance, Lotus House, Meditation Garden, Olcott Fund, etcetera.
IBAN account-number NL42 ABNA 0475 4536 46 of Stichting St Michael.
For questions please contact the Chairman or Treasurer: info@itc-naarden.org

---
You can find our previous newsletters in the Centre News archive.
---